American singer, guitarist and songwriter Merrell Fankhauser is a living legend of the 60s psychedelic music scene and one of the founding fathers of the surf rock genre. He released landmark albums in a wide variety of styles, jammed, gigged and recorded with numerous important musicians and he was leading a truly hippie existence in the Maui jungle for a few years. I am deeply honored to share this career-spanning interview conducted with a unique, congenial artist whose uplifting songs have been entertaining thousands of listeners for over 5 decades.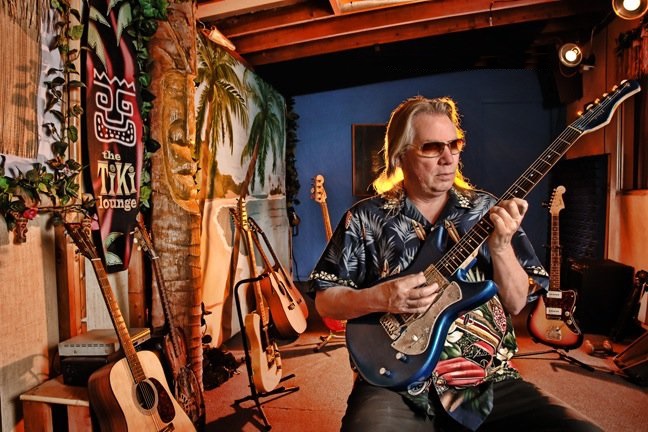 Thanks for granting the Retro Rock this interview, Merrell... You were born in 1943, so I suppose your earliest serious musical influences are from the 50s. What are they, and what or who inspired you to pick up the guitar? 
My first recollections of music is living in Kentucky, playing with the black kids across the railroad tracks and watching their dads and uncles playing bottleneck guitar around 1952. My dad played guitar and I got a ukulele for my 10th birthday. My dad started showing me chords and I began writing my own little songs and learning some of the popular songs of the day. In 1955, we moved to California and around 1957 I heard Carl Perkins and Elvis Presley. I started learning their songs and others that are now called oldies but goodies from the dawn of rock and roll.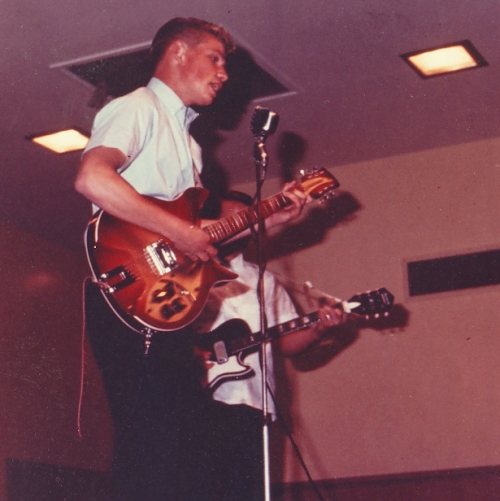 The first world-famous group you founded were The Impacts, one of the quintessential surf rock bands of the early 60s.
In 1958, I was playing solo at a local theater between afternoon movies and at school dances. I went to high school with the guys that would later become The Impacts, and near the end of 1961 we got together and started playing at a teen night club in Pismo Beach California called The Peppermint Twist West. We became so popular that the big Rose Garden Ballroom down the street decided to hire us as the house band playing three times a week. We backed up many of the popular bands of the day like Little Anthony And The Imperials, The Isley Brothers, The Coasters and many others. I was a young seventeen-year-old surfer at the time and a fan of the instrumental bands The Champs and The Ventures, and I started writing instrumentals and putting surfing titles to the songs, like Blue Surf and Tandem. I had written a song called Kick Out that was a popular dance song at The Rose Garden Ballroom. One day I was surfing in Pismo, and the waves were not that big. I was sort of daydreaming when a big wave came out of nowhere and took me over the falls and dragged me along the bottom. When I came up, I heard somebody laughing and saying "Merrell Really Got Wiped Out"! This really embarrassed me, as a group of pretty girls that were sunbathing on the beach started giggling. When I was driving home, I thought Wipe Out might be a better title for my song than Kick Out.
The Impacts started playing my version of Wipe Out regularly at the ballroom and it became one of our most popular songs. Our first version only had one drum solo at the beginning of the song and a scream: Wipe Out! In early 1962, two music producers named Hilder and Knowles heard us and offered to record us in Hollywood to make an album. We were overjoyed and jumped at the chance and in September of 1962, we drove to Hollywood and recorded The Impacts Wipe Out album in an all-day session that finished around 5 in the afternoon. The term surf music had not been coined yet, and there were only a few groups along the California coast playing this new style of reverb driven instrumental music, later to be called surf music. Hilder and Knowles made a deal with Del-Fi Records to release our album for an undisclosed amount of front money and royalties. By November, our album was in every store in California and getting played on radio. Kids were bringing our album to the ballroom for us to sign. We had no idea about copyrights or contracts and we just thought the money would come in. My dad asked us the question "Did You Boys Sign Anything?" We said no, and he said "You need a contract". Near the beginning of January 1963, we got a call from Hilder and Knowles saying they wanted to record more songs for compilation albums and a reworked version of Wipe Out for a possible 45 single. So once again, The Impacts headed for the studio in Hollywood, but this time with a plan: we wouldn't record until we got a contract. We noticed that on the back of the album there were no songwriting credits for our tunes. We would later find out Hilder had published our songs through his company Anthony Music. We arrived at Ted Brinson's studio before lunch and told Hilder we needed contracts before we started to record. They sent their new assistant Richard Delvy out to get some Popular Songwriting Contracts. He came back and with a short explanation, Hilder explained this would secure our songs in our names and we would receive our royalties... So we signed and started recording. First we were reworking my song Wipe Out, with a giggle from the song Church Key and then drum solos after every verse, that we thought was not real good, and they brought my guitar part out front more in the mix. We then went on to record other originals and we finished the session and drove home. When we showed the contract to my dad, he said you boys just signed your songs over to Hilder and Knowles, there's no guarantee you will get anything. And there's nothing that mentions anything about royalties for records sold. We were depressed and it was hard to keep the band's moral up after that. We talked to a lawyer and he said it would cost quite a bit to sue with no guarantee of getting anything. Richard Delvy, the young guy who was learning the music business from Hilder and Knowles, was a drummer in a band called The Challengers and went on to form his own production and publishing company and would later publish and produce a group called The Surfaris who had a hit with a song called Wipe Out 9 months after our album was released. Several songs from our second session ended up on hit compilation LPs and our album has been reissued over the years on CD on Del-FI and a Rhino US subsidiary and European and Japanese labels. After many contracts and albums, I learned the publishing and copyright business and recopyrighted mine and the other Impacts members' songs. When Hilder's contract expired in 1994, we finally got our rights back.
Speaking of surf rock: Is it true that a surf song you played on is in Quentin Tarantino's Pulp Fiction?
Yes. I played with a band called The Revels when I was a teenager starting in the summer of 1961, and we recorded different versions of their songs Church Key and Comanche. The latter can be heard in Tarantino's Pulp Fiction during the dungeon scene with Bruce Willis and Ving Rhames. I rejoined The Revels for a reunion in 1992 and we recorded an album titled California Live on the French Legend Records label. We did a live concert version of Wipe Out that can be seen on YouTube. We had so much fun playing together again that the reunion lasted two years.
Your next successful musical endeavor was the group Merrell And The Exiles, an energetic beat outfit that was in great demand on the club circuit in California.
Near the end of 1963, I quit The Impacts and moved with my parents and sister to the High Desert area of Lancaster where my father was a flight instructor. I was now alone without a band, practicing my guitar in an airplane hangar. One of the airport employees heard me playing and said his son Jeff was learning to play guitar and maybe we'd like to get together. I went in town and met 14-year-old Jeff Cotton and after one night of playing we decided to form a band and auditioned Greg Hampton on drums and Jim Ferguson on bass. I started teaching them my instrumental surf songs and the new beat style vocals I was writing. We got our first gig for a high school dance and with one gig we were the talk of the town. Next we played a big dance at a local hall that my mom organized and the word was out! We started doing the dances monthly at Jane Reynolds Park in Lancaster and producer and record label owner Glen MacArthur heard us and offered to record us in his Palmdale studio. The first song was a song called Too Many Heartbreaks that I had written in 1961, then we did a new one called Please Be Mine. Glen signed us to Glenn Records, and in March of 1964, the two-sided single was released and by April was #9 on the local KUTY radio chart and stations in L.A. and other parts of California. This coincided with The Beatles' invasion of America and Merrell And The Exiles were the Antelope Valley's answer to The Beatles. We started doing live performances in L.A., San Fernando Valley and the popular vacation town of Palm Springs and TV shows in Hollywood. We went on to record five 45 singles for Glenn Records that got national radio play and play in England.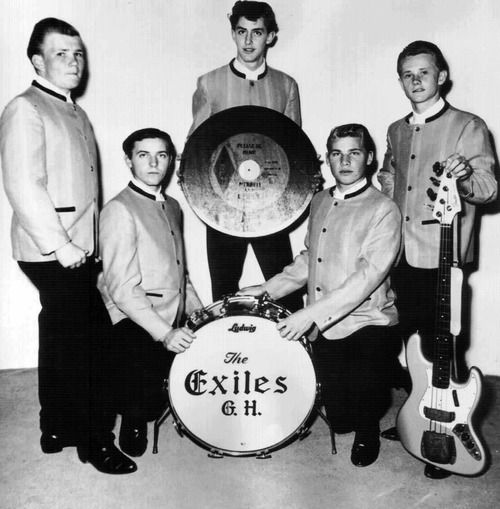 Two members of the Exiles, Jeff Cotton and John French, left to join Captain Beefheart's Magic Band. Then you put together Fapardokly, one of the earliest groups of the West Coast psychedelic scene. 
Later in 1967, my parents moved back to the California central coast, and I formed another band with my old guitar playing friend Bill Dodd who took over for me in The Impacts when I left. We played with several drummers and bass players as just Merrell And The Boys. One night, after we played in a club called The Cove in Pismo Beach, we decided we needed a name for the band. This was the beginning of the psychedelic era, and we felt we needed a more far out name. I sat down with pencil and paper and took the two letters from each band members last name and put them together FA (for Fankhauser), PAR (for Parrish  bass player at the time), DO (for Dodd)  and KLY (for Dick Lee the drummer) Fapardokly was born!  I was constantly writing new songs and Glen called me up and said he would like to release an album with some of the singles and unreleased Merrell And The Exiles songs he had on the shelf and asked if I had any new ones to add. By then, John Oliver (The Impacts bass player) joined us and we were very popular on the central coast. We drove the two hundred miles from the coast over to the desert and recorded enough songs to finish the album, and in a few months Glenn released the Fapardokly album and it started getting FM radio play and a few sales in California and the Midwest and East Coast. One night we were playing at The Cove and a motorcycle gang called the Satan's Slaves came in and took over the club and made us play a song off of the Fapardokly album for over a half an hour, and then roared off into the night. The Fapardokly album has gone on to be one of the most highly sought after valuable albums from the 1960s, a sealed copy was sold for over $1,000. Songs from the album have come back into the spotlight. Tomorrow's Girl was in the 2011 Grammy-nominated box set Where The Action Is − L.A. Nuggets 1965-1968. Supermarket was mentioned in the Thomas Pynchon novel Inherent Vice, and in 2018 Lila was in the movie Chappaquiddick.
The Fapardokly album was followed by an even more psychedelic one, released under the name Merrell Fankhauser and HMS Bounty.  
Bill Dodd, me, drummer Larry Meyers and bass player Jack Jordan decided to move to L.A. in 1968 to perform live and get a record deal. We ended up renting a house in a suburb of L.A. called Woodland Hills, and it just so happened that two of my old band mates from The Exiles, Jeff Cotton and John French, had joined Captain Beefheart's Magic Band and lived just one canyon over from us.  We met two good music producers and publishers − Jack Hoffman and Norm Malkin − that had offices in Hollywood and they were impressed with the Fapardokly album and the new songs I was writing and offered to record us in the famous Gold Star studio where countless numbers of famous bands had recorded hits. We had a meeting with Russ Reagan of Uni Records and played him the three new demos, he liked the songs and asked: "What else do you have?" I played him the rest of the songs for the new album on my acoustic guitar and Russ stood up and shook my hand and said "Amazing! You've got a deal!" We went into Gold Star studio and in a little over a month the album was finished. Jack Hoffman thought we needed a name that sounded more British and said what do you think of Merrell Fankhauser And HMS Bounty!? I thought it was too long, but Russ Reagen liked it and in November of 1968 our album Things was released to rave reviews and national radio play on the same radio charts with The Beatles' Hey Jude! Russ thought my name was different and had bumper stickers made up that said "What Is A Merrell Fankhauser?" It had the record label's PR department phone number on the sticker with a girl that would answer the phone and say: "Merrell and his HMS Bounty band were the grooviest and hippest new band!" The HMS Bounty did many memorable live concerts at big venues in L.A. and other parts of California with bands like The Blues Image, The Electric Flag and many others. I was lucky that new songs came to me so easy without even trying, as if they were coming automatically from somewhere. I always made sure not to listen to radio a lot, as I didn't want to follow the trend, it was important to stay original.
In the late 60s, you shared the stage with many trailblazing bands of the era: Sky Saxon & The Seeds, Mike Bloomfield's group, Buffalo Springfield, Quicksilver Messenger Service, Jefferson Airplane, The Doors…
With the release of Merrell Fankhauser and HMS Bounty's album Things in 1968, we were booked on many concerts with well-known bands. One of the first concerts was in the L.A. area. Opening up for us was a band called CTA, later known as Chicago. After their set, we were blown away by their big sound with horns, great vocals and very professional arrangements. They were so good our guitarist Bill Dodd was nervous and almost afraid to go on stage. We mustered up all our courage and energy and played a good set that got very good applause from the audience. Another big concert was in Bakersfield where we opened up for Canned Heat with two other bands. Canned Heat's guitar player and I met in the restroom and had a short conversation about slide guitar. My band didn't get a dressing room and had to wait in the hallway behind the stage. I looked in at Canned Heat in the dressing room and their drummer Fito de la Parra gave me a mean look like "Don't look in here!" Later around 2002, I had Fito on my Tiki Lounge TV show. I told him about that time and he laughed. We have become good friends and have played together several times since.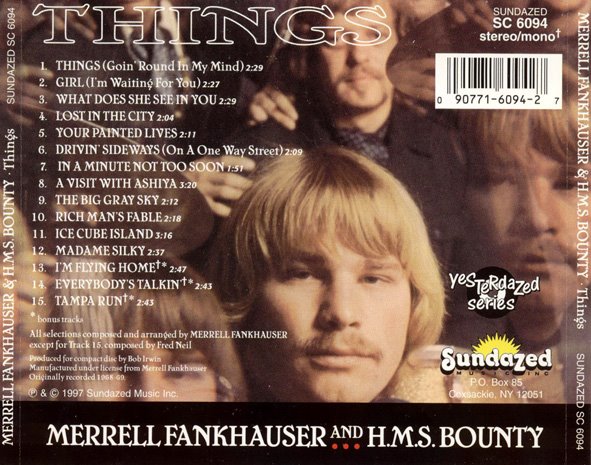 The hippie movement and its ideals tend to receive harsh criticism these days. Staunch conservatives keep on calling the hippie era an example of the decline of western civilization, while numerous liberals emphasize that it could have achieved more in terms of liberation and social change if it had been more organized and less drug-fuelled. After all those years that have passed, what's your opinion of this important part of 20th century American history that you experienced as an active participant?
The hippie era in the 60s and 70s was an exploration into new ideals and a lot of good things were started, especially in areas of health and diet. The current organic food craze was started by the Hippies, and herbal remedies for health problems are now accepted. It is true there was an over-indulgence in drugs, starting with marijuana that led to other stronger and more harmful drugs that had a bad effect on health in later years. Now the health uses for marijuana medical products like CBD are found to be beneficial. I don't feel smoking marijuana is good, as any smoke in the lungs is unhealthy. Meditation became popular in the 60s and 70s, and I feel that it is very helpful in keeping your mind and body relaxed and in tune. In the 70s I studied Tibetan Buddhism and was given the name Lodru Jantso by one of the Lamas which means Oceans Of Intelligence. I later wrote a song with that title that's on one of my albums. I still meditate.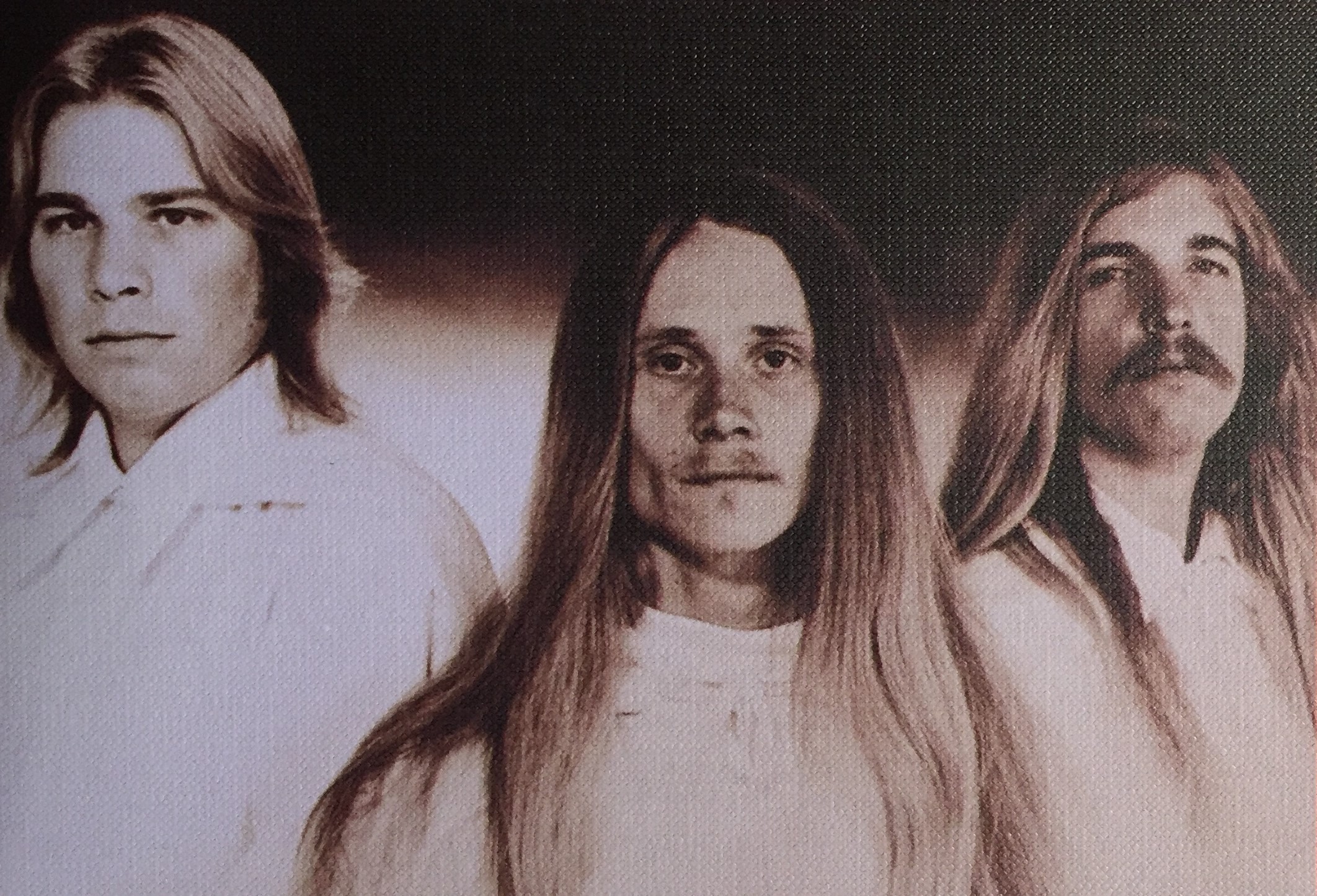 After HMS Bounty you founded MU, a band that – during its existence – was the most popular rock group on the Hawaiian Islands. This was also the beginning of a new era for you message-wise, as the new lyrics you wrote were getting increasingly esoteric and mystical.
My band HMS Bounty disbanded in 1969, and I got back together with old bandmates from Merrell And The Exiles: Randy Wimer on drums, Larry Willey on bass and Jeff Cotton on guitar. Jeff Cotton had been playing in Captain Beefheart's band and wanted to do a different style of music and rejoined me. This didn't set well with Don Van Vliet (Mr. Beefheart himself), and a few months after Jeff joined me he was kidnapped in front of the local music store by the Beefheart band members. When Jeff didn't come home after a few hours, I went down to the music store and the shopkeeper told me the Beefheart guys got him. I went up the canyon to the spooky Beefheart house that sat on a hill half-covered with trees. I walked in and Beefheart's girlfriend Laurie led me to an alcove that went into the bathroom. There was Jeff in the bathtub whimpering like a scared dog! Don (Beefheart) was sitting in a chair demoralizing Jeff, and said: "Come in Merrell, we were just having a little talk." The little talk then went on for four hours! One minute Jeff was coming home with me, the next he was staying with Beefheart. It was a battle of the will and mind, and after some time I wore Beefheart down, pulled Jeff out of the tub and took him home with me. Jeff was afraid to venture out alone after this. I found a book in my house I was renting in Woodland Hills (a suburb of L.A.) titled The Lost Continent Of Mu by Colonel James Churchward. Jeff and I read the book and began writing songs together with a new burst of inspiration with an indefinable style that was very unique and different. We decided to call our new band MU. We began playing all the big venues in L.A. and a producer and agent heard us and produced our first album, simply titled MU. We made a deal to release it on the L.A. label Era Records. By mid-1970, we were getting national radio play and we were playing all the big venues in California and appearing on TV shows. Our promoter Audrey P. Franklyn booked us on over 100 radio and press interviews. Our popularity eventually spread to the UK and other parts of Europe. In early 1973, we decided to move to the island of Maui, Hawaii that was believed to be one of the mountain peaks of the continent Of MU or Lemuria. 
What lead to the demise of MU and how did you meet Mary Lee, the talented violinist with whom you recorded your next album, Maui, which over the years has become a cult-favorite around the world? 
The move to Maui opened up a new form of inspiration that spawned a more spiritual style of music, we felt at home and at peace in this new tropical setting. An audio engineer named Barry Mayo, who had recorded the album Just For Love by Quicksilver Messenger Service, heard us and offered to record an album with us in our house with recording equipment he had. One night two beautiful ladies appeared at our door with a plate of chocolate chip cookies, Erna Woo and Mary Lee. We jammed with Mary Lee who played fantastic violin, and we decided the violin would fit nicely on some of our new songs, especially one titled The Land of MU.  By early 1974, the second MU album was finished, and we were all amazed at the sound Barry got on us with his portable four-track recording equipment. The Broadway star of the musical Hair Red Shepard was producing a big concert at his house in the Maui jungle in the little village of Hana, and we were invited to play. It was a beautiful setting with a large stage built in front to a 40-feet waterfall with a view to the blue Pacific Ocean on the left! I warmed up with David Carradine (the actor from Kill Bill and the TV series Kung Fu) playing songs back and forth on acoustic guitars in a guest cabin. Folksinger Ramblin' Jack Elliot opened up for us. David went on and did a set with his wife actress Barbara Hershey on flute and then MU took the stage. We pulled out all the stops with our original unique L.A. songs and our new spiritual rock songs... The entire concert was filmed for a movie by a crew from Hollywood. Because of contractual problems, the film never came out. It was shown at a private screening and our promoter Audrey P. Franklyn said it was fabulous. We never saw it. Jeff Cotton and Erna Woo fell in love and got married at a beautiful waterfall on Maui, Mary Lee and I played at their wedding. Around this time, we got the news that United Artist Records London was releasing our first album. Erna Woo was a Christian and convinced Jeff that MU was bad occultism and he should join the Christian Seventh Day Adventist religion. Which he did, and then he announced he was quitting the band at the height of our popularity. Randy Wimer also joined the religion, and he also quit the band. They never recorded or released any music since. I thought it was a shame not to use their God-given talent. Mary Lee and I moved in together in my jungle cabin, and I began my search for ruins of the Lost Continent Of MU and writing songs that would be on the 1976 Maui album.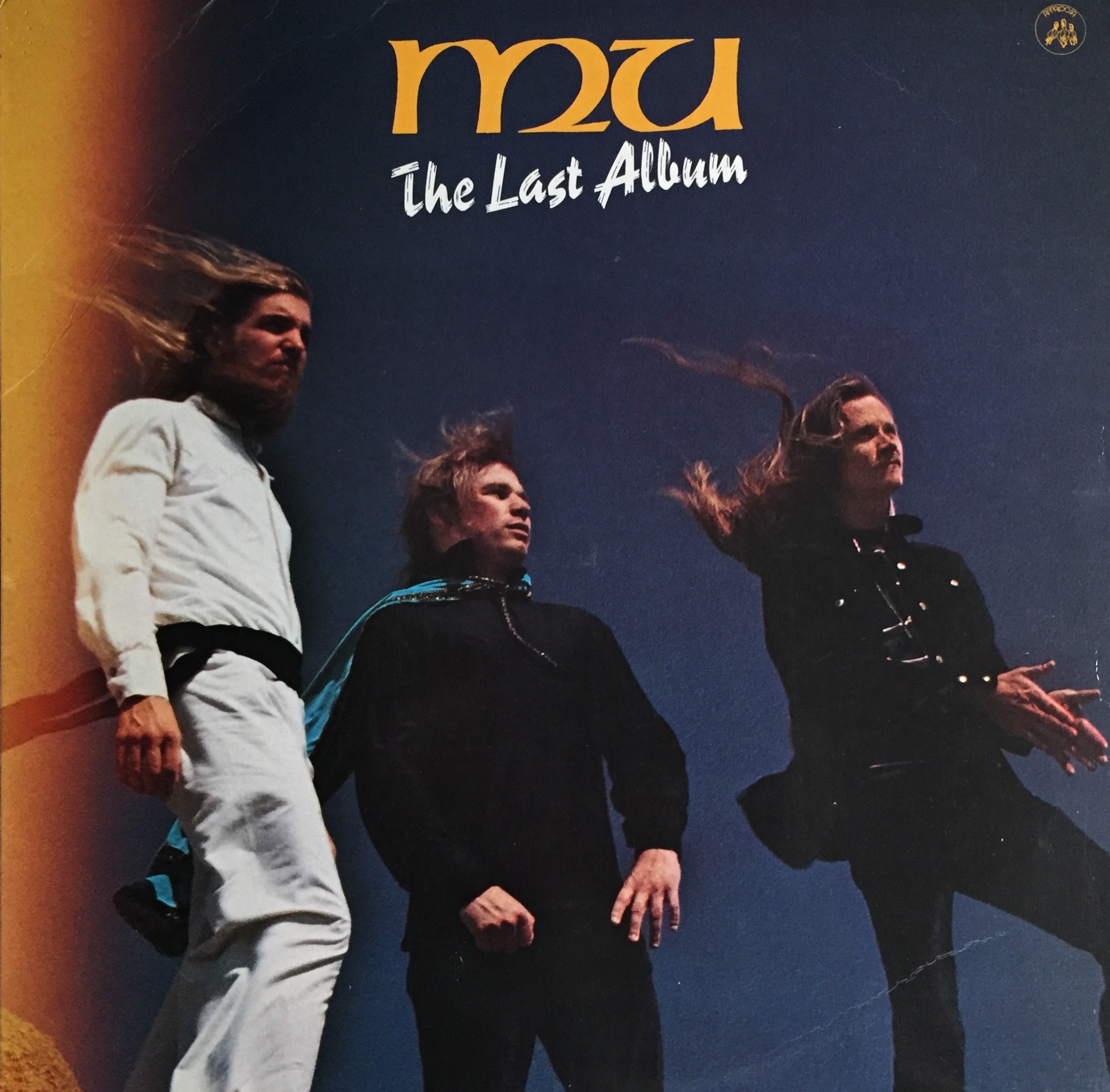 During the time you spent making music with Mary, you both lived literally in the jungle for about 7 or 8 years. Why did you decide to change your lifestyle so drastically and leave civilization behind, and how was this unusual environment influencing your songwriting?
I felt the need to live in the Maui jungle and experience nature there that led to inspiration again to a new style of music. I made friends with all the jungle birds that I fed every morning, and they would be waiting for me on my deck and they would sing along with me while I was playing my guitar. It was an idyllic setting: We were living by a free-flowing stream and waterfall, a special time I will never forget. The songs would just flow out of me like the stream in front of the cabin. One night the sound of the water on the rocks inspired my song Waterfall that just came out in a matter of minutes. Mary wrote it down on a paper sack, and I kept playing it, so I wouldn't forget it and recorded a demo on a friend's cassette tape recorder. This was around the time I joined the Maui Tibetan Dharma center and was given the name Lodru Jantso (Oceans Of Intelligence). The feeling of those years is still with me and seems to keep my songwriting evolving... At this time in 1975, there wasn't a good recording studio on Maui, so Mary and I went to L.A. where we met producer Dino Airelli who was running Dark Horse Records for George Harrison. He took us in the studio and recorded basic tracks for seven songs for an album. George listened to the tracks, liked them, and saw the photos of our cabin and the waterfall. He later bought land in Hana Maui. We got interest from a record label to finish the songs that Dino started, he was too busy running the Dark Horse label to finish our album. We went to San Francisco and finished the album in Elliot Mazer's studio with Bill Berg on drums from Bob Dylan's band, Jimmy Dillon on guitar, Steve Meese on bass and Mary on violin and vocal and myself on guitar and vocal. The album came out in 1976 to rave reviews and radio play. Being on a small independent label, the sales were not real good. The vinyl album was reissued on a few labels and the original LP is a highly sought-after collector's record. The album is also out on CD on the Swedish label Subliminal Sounds Records.
After the Maui days, you spent time in L.A. recording fan-favorite Fanhauser songs like Dharmic Connection and Calling From A Star. 
In 1978, we went back to L.A. and recorded another batch of songs with studio musicians. Gary Malabar on drums from Steve Miller's Band, Colin Cameron on bass, Bill Cuomo on piano, Ben Benay on guitar, and Mary on vocal & violin plus me on guitar and vocal. The song Calling From A Star came out on vinyl 45 in 1978, and again later in 1985 along with Dharmic Connection on the album A Day In Paradise. The sessions with pro studio players were so easy, and we would do at least three basic tracks in one session and then a few more sessions were needed to do overdubs, and they were complete. Calling From A Star was later played on over 300 radio stations as a tribute to the fallen Columbia astronauts. I received a thank you letter from NASA and The White House. Calling From A Star is now released again as the lead track on a 2 CD compilation titled Eklectia.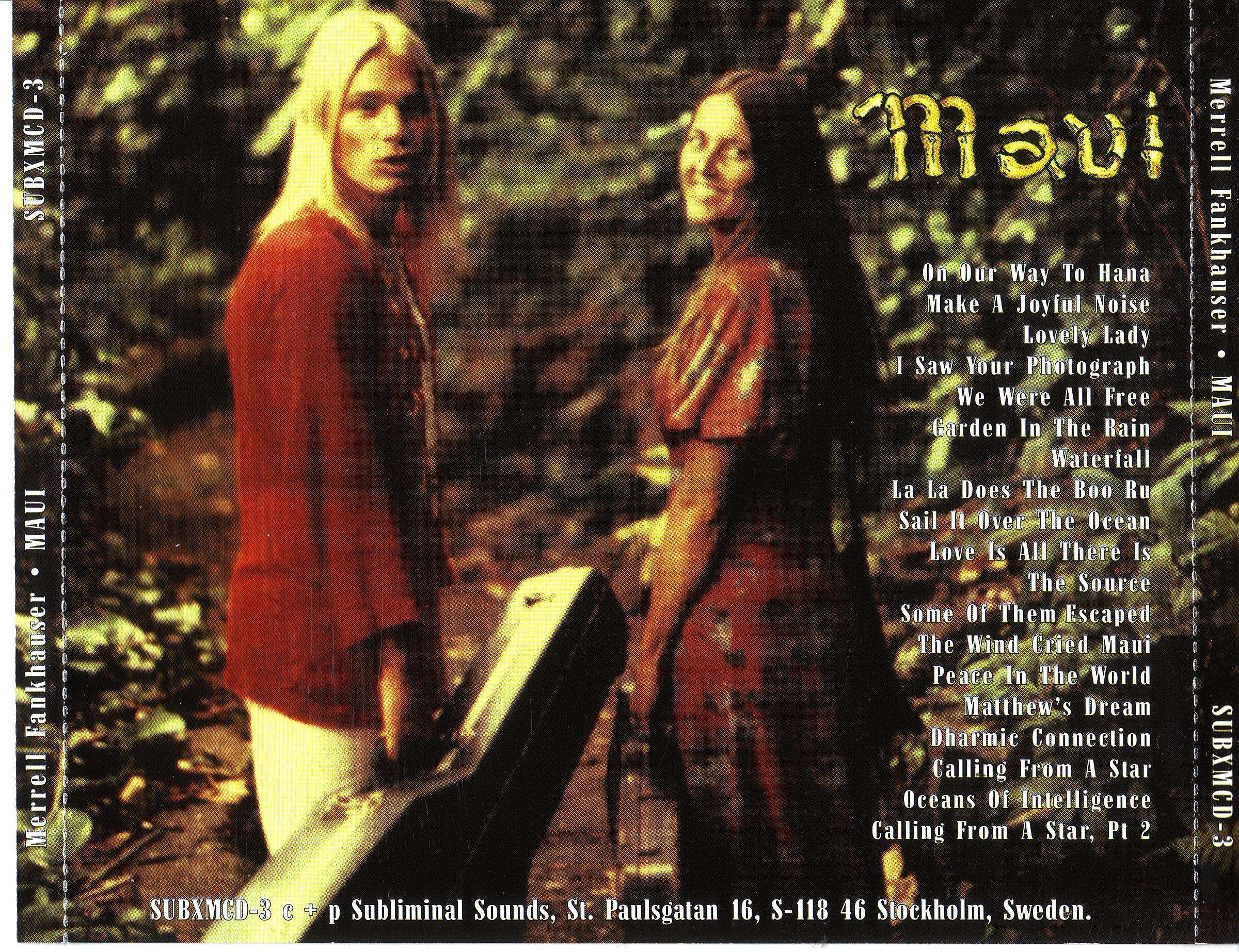 In 1978, you shot a unique video for Calling From A Star.
In 1978, I recorded the song Calling From A Star in L.A. and went back to Maui to the top of Haleakala crater with a film crew and shot the video that is now on YouTube. The song was inspired by a UFO sighting I had atop Haleakala at sunset in 1974. The song first came out on vinyl 45 single in 1978 and later on several albums and CDs.
You once said that John Lennon's passing had affected you deeply. Did you ever meet him?
Meeting John Lennon was one of my most memorable experiences. In 1978, I had flown over to L.A. from Maui to do some recording, and my friend Harry Nilsson invited me to a party he was having at his house in Hollywood. When I walked in, I immediately recognized John Lennon sitting in the living room with other people. Harry introduced us, and I was surprised John had heard some of my music. We had a conversation about songwriting, and John said: "Isn't it interesting when and where songs come from?" We both agreed the best songs come in about fifteen minutes, and you have to write them down or record them right away, or they go away. John called it automatic writing. That conversation has stayed with me ever since to this day. I was very sad when I heard John had died, I was living on Maui at the time in my jungle cabin and I wrote the song Buddy, Elvis And John dedicated to him, Buddy Holly and Elvis Presley. The song came out several years later on my Doctor Fankhauser album.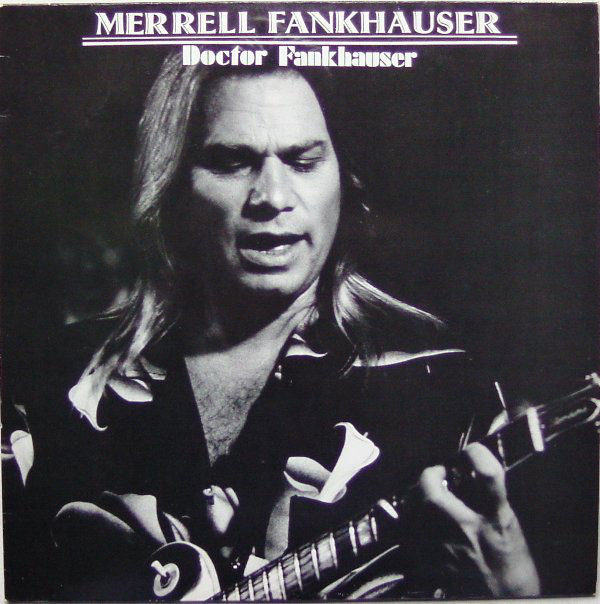 One of your major releases in the 1980s was Doctor Fankhauser, an album full of joyful material and featuring some interesting guest appearances. You also said that it's one of your personal favorites.
In 1983, John Cipollina of Quicksilver Messenger Service was visiting Maui, and we decided to do some recording together in the only studio on the Island that was built in an old winery on the edge of the rainforest. The band consisted of me and John on guitars and guitarist Jim Murray who had played in one of the early lineups of Quicksilver, Mary Lee on violin, Steve Meese on bass, Ray Purcell on drums and Tim Carr on harmonica. It was very much a free-form jam and we started out warming up on some rockabilly and blues rock like That's Alright Mama and Got Me Runnin'. Then we launched into some of my originals. We did a great version of my song Waterfall that John played a beautiful slide guitar on, that version also came out again in 2000 on my Return To MU album.
We did a version of Calling From A Star that got lost or recorded over, we could never find it. It was a very fun and memorable session that lasted from 12 noon to 12 midnight with only a break for pizza in the evening. I returned to California with the master tapes and played them for Ken Smith, the head of D-Town Records in L.A. We recorded more songs to complete the album with Mary Lee and I and studio players and some of my California band. The Doctor Fankhauser album came out in 1986 on D-Town Records in the US, on Line Records in Germany and on GMG Records in France. In 1992, it came out on CD on Legend Music in France and in 1996 on CD on Relix Records US. The album is one of my favorites for the melding together of different music styles and the exuberating performances from all the musicians and John Cipollina's great guitar playing.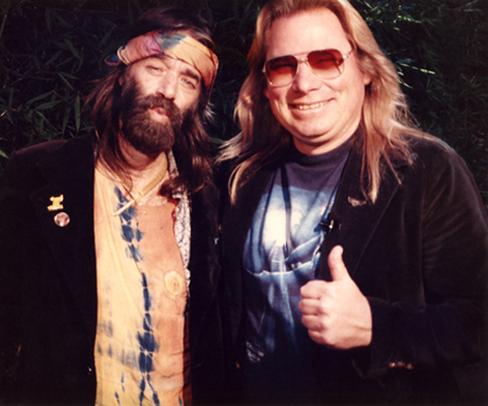 Sky Saxon of the legendary psychedelic garage band The Seeds was someone you knew quite well.
I met Sky Saxon of The Seeds in 1965 on the Sunset Strip in Hollywood when we were playing clubs in Hollywood and trying to get record deals. It was a great time when everyone was experimenting with combining various musical styles, every band was a little rebellious with their music producers, record labels and agents who were thought to be trying to change their music and turn them in to a sweet-sounding bubble gum band. Sky was one of those rebellious musicians who got his way and had a big hit with his song Pushin' Too Hard. Sky was a follower of Father YaHoWha (alias Father Yod) who he had met in L.A., the followers of this guru moved to Hawaii in the early 80s. Sky and I met up again on Maui where I was living, and he would come on stage wherever I was playing and sing a few songs. We once did some recording together in a house on Maui on portable recording equipment that I heard came out on a label in Europe as Sky Sunlight Saxon. In 1991, I was living in California doing a satellite TV show called California Music. Sky called me up and came on the show and did an interview. I helped him produce one of his later recordings, the album Flashback that I released on my label Ocean Records. He debuted the title track on my California Music TV show and got good response as the show was on 150 TV stations nationally. He continued playing live and even got back together with some of the original members of The Seeds. He passed away and in early 2010. I wrote a tribute song to him, Two Guys From The 60s, that came out on an album titled Reach For The Sky: A Tribute To Sky Saxon on the Global Recording Artists label. Sky was a true innovator of psychedelic punk rock before it was invented.
You were also good friends with two other great musicians, Spirit drummer Ed Cassidy and Nicky Hopkins, the famous piano player who worked with dozens of superstars from The Rolling Stones to The Who. 
I briefly met both Ed Cassidy and Nicky Hopkins at a concert in Los Angeles with several groups on the bill, around 1969. Nicky and I were reunited in 1990 when he appeared on my California Music TV show. Nicky and I jammed live on the show with Pat Benatar's bassist Roger Capps, it was a popular show that was broadcast in two parts and re-aired several times. Nicky Hopkins and my band and I did an outstanding concert at the Pismo Beach Veterans hall to a sold out audience on June 22nd 1991. This led to several recordings and his wonderful piano playing on my song Queen MU that later came out in 2000 on my Return To MU album that also featured Ed Cassidy on drums on several songs! Sadly, Nicky Hopkins passed away of a stomach aneurism in 1994. His credits read like a Who's Who of famous bands and artists: The Beatles, The Rolling Stones, even Willie Nelson, and so many others! I still miss him today.
Ed Cassidy was the unique and talented drummer from the band Spirit. We met on the set of my California Music TV show in 1991 and decided to do some recording and live gigs together, and in 1994 Cassidy moved to the central California coast near where I was living. We started recording the album On The Blue Road by The Fankhauser Cassidy Band that also included my son Tim Fankhauser on guitar and vocal. The CD album came out on D-Town Records in 1995 to immediate rave reviews, radio play and good sales. We did many memorable gigs and started work on another album that was titled Further On Up The Road by The Fankhauser Cassidy Band, released as a two-vinyl record set on Akarma Records Italy in 1999. In 2007, we did a 6-track CD titled Stolen Guitar Blues that featured a song Cassidy and I wrote together about Randy California's Martin guitar that was stolen. This CD came out On JHS World Records Germany in 2007. In 2014, Gonzo Records UK released a double CD set with all the Fankhauser Cassidy Band recordings titled On The Blue Road. Sadly, Ed Cassidy died in 2012 at the age of 89. He was the oldest performing drummer in rock music. His last recording that he and I wrote and recorded together (Out On The Town) is featured on the 2018 CD Tiki Lounge Live on the L.A. label Golden Lane Records. I will forever miss his wit and wisdom and powerful drumming style.
The lyrics and musical themes on albums like Message To The Universe (1986) and Flying To Machu Picchu (1992) show that you had developed a serious interest in ufology and ancient cultures by that time. What inspired you to go in that direction?
I was always interested in UFOs and airplanes when I was young, as my dad was a flight instructor and taught me to fly when I was 14 years old. I read books about flying and UFOs. So this theme was carried on into my adult life, and after I had a UFO sighting on Maui in 1974, songs about UFOs were born. In 1969, I found the book The Lost Continent Of MU and other books about lost civilizations. In 1973, I moved to Hawaii and discovered pre-Hawaiian ruins that inspired songs I wrote.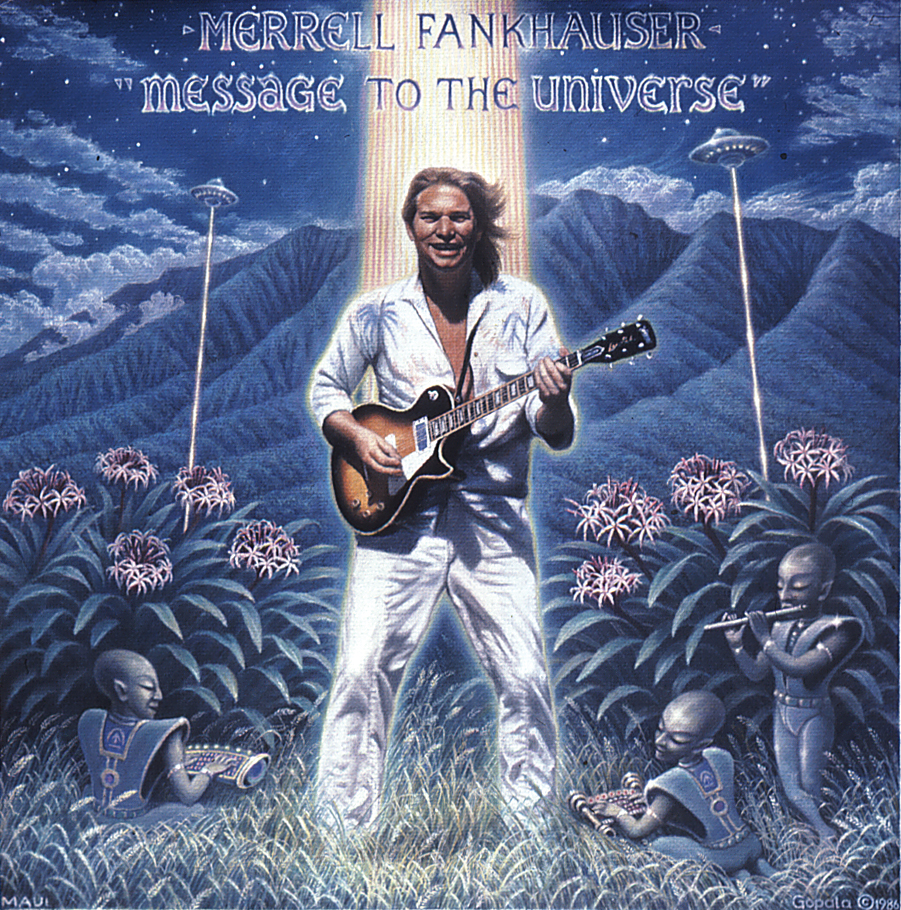 You reformed The Impacts in the 1990s and released three great albums with the band. These records contain catchy surf instrumentals that would all be perfect for motion picture soundtracks.  
The Impacts and I actually got back together and played a few reunion concerts in the late 1980s and we started working on more new instrumental surf albums. In 1994, Del Fi Records rereleased our original Wipe Out album on CD and followed it up with several compilation CDs we were on. In 1996, D-Town Records released our new reunion album Surfin' 101 that got good sales and radio play. Around this time there was a resurgence of instrumental surf music, old and new being used in movies like Pulp Fiction and on TV shows and in advertisements. We did a second new Impacts album Eternal Surf that was released on the German Gee Dee Records in 1997 and again got good reviews, sales and radio play. The last Impacts album was Sex, Wax And Surf, released in 1999 on the Japanese Captain Trip Records. My songwriting partner and steel guitarist Martin Brown, who had been in the band since 1961, passed away in 2000. We decided we wouldn't do another album, as it just wouldn't be the same without Martin. At the request of DJs across the country and in Europe, I started doing a series of solo instrumental surf albums titled Rockin'And Surfin'.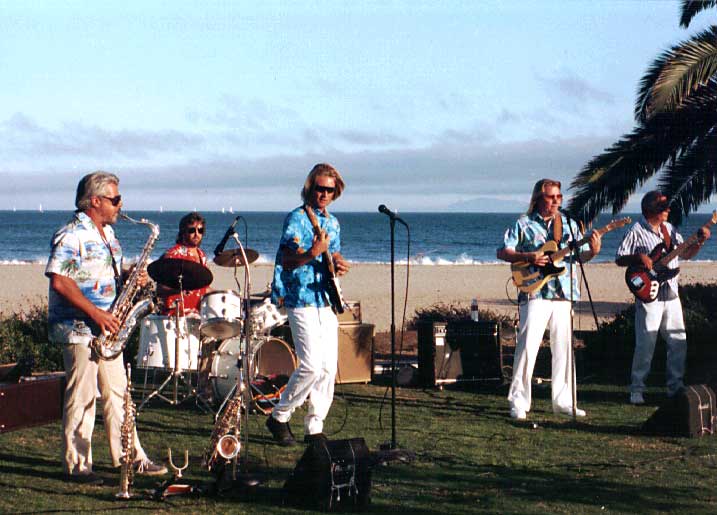 1999's Goin' Back To Delta is one of the best old school blues albums of the decade, featuring Ed Cassidy on drums and your son Tim on guitar, plus lots of other great musicians. 
In 2000, my solo album Goin' Back To Delta was released on the Japanese Captain Trip label. It was a combination of new songs and some from the second Fankhauser Cassidy Band album and a few extras, including a drum solo by Ed Cassidy when he was 85 years old. It featured Pete Sears of Jefferson Starship and Hot Tuna on piano, John McEuen of The Nitty Gritty Dirt Band on mandolin, my son Tim Fankhauser on vocal and guitar and other talented California central coast musicians.
Return To Mu came out on CD in 2000. How much time did it take to finish this essential recording that shows you in top form vocally and as an instrumentalist, and why are you especially proud of it?
I started recording the Return To MU album near the end of 1993 in movie and record producer William E. McEuen's studio in Santa Barbara. William produced albums for The Nitty Gritty Dirt Band, The Allman Brothers and others and movies for Steve Martin and many others. It was wonderful to work with such a creative person as Bill McEuen, he understood my inspiration regarding the lost continent of MU and was interested in my research. He was willing to produce an album that told my story of my discoveries of pre-Hawaiian ruins in the jungle there. I had a few songs that I had previously recorded (like Queen MU with Nicky Hopkins and Prospector's Moon) that fit the album and we finished them and went on to record more new songs I had written. A great ensemble of musicians was put together that included Bill's brother John McEuen on mandolin, Ed Cassidy, Jerry Sagouspe and Art Dougall on drums, Jay Ferguson and Dom Carmedella on piano and synthesizer, Jim McRae and Randy Tico on bass, Dean Torrance on harmony vocal, Tim Fankhauser on guitar and vocal and a long list of musicians from California and Hawaii playing various instruments on different songs. It was a very fun, joyful and rewarding time hearing the songs being born with such a high degree of professional sound. All made possible with the help of recording engineer Bob Edwards and Bill McEuen's production and the beautiful 48-channel Neve mixing board.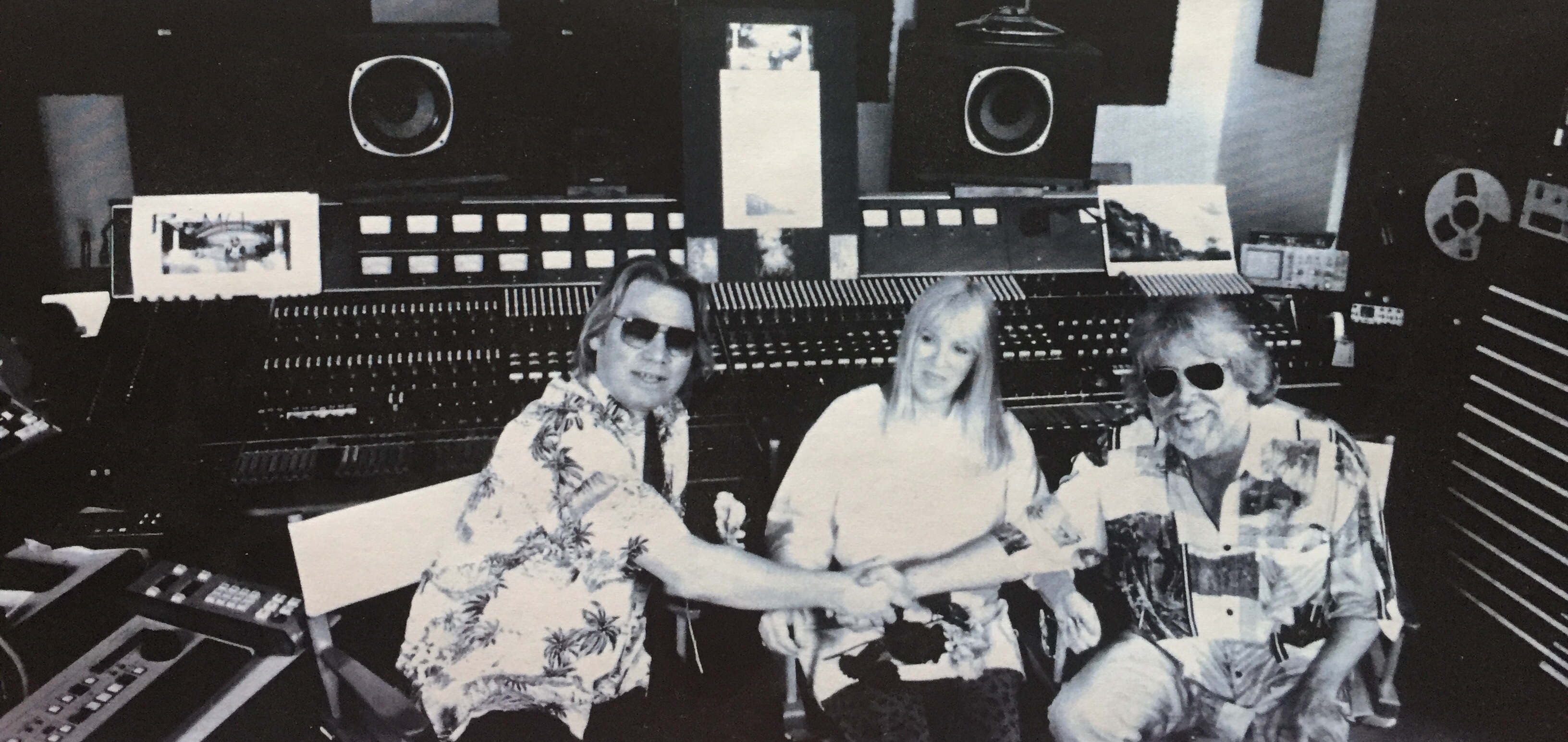 We finished recording enough songs for an album by the end of 1995, we were having such a good time we decided to just keep recording.... Bill McEuen presented the idea to possibly do a trilogy of three albums. We took a break and flew to Maui and went out into the ruins on the desolate side of the island that I had explored in the 70s and Bill took some amazing photos for the album cover. We returned to the studio in Santa Barbara California and kept recording for four more years stockpiling songs. In 2000, the eighteen-track CD album Return To Mu came out on the Japanese Captain Trip label, followed by a release on CD and vinyl on the German Lance Record label. In 2003, it came out again on Sundazed Records US and again on the UK Voiceprint label in 2011 with a DVD documentary. I'm forever thankful to William McEuen for producing this album that is dear to my heart and most favorite. We kept recording and the remainder of the songs came out around 2004 as The Man From MU on the Horizons label in Italy. The label released a beautiful two-LP set with a gatefold cover and a CD.
You met Willie Nelson the same year and even performed with him... 
I met Willie Nelson in 2000 on Maui and we did an outstanding concert on the island with part of my old Maui Band that featured Donny Divino Smith on guitar and other talented Maui musicians. There's a video of us doing Wipe Out on YouTube.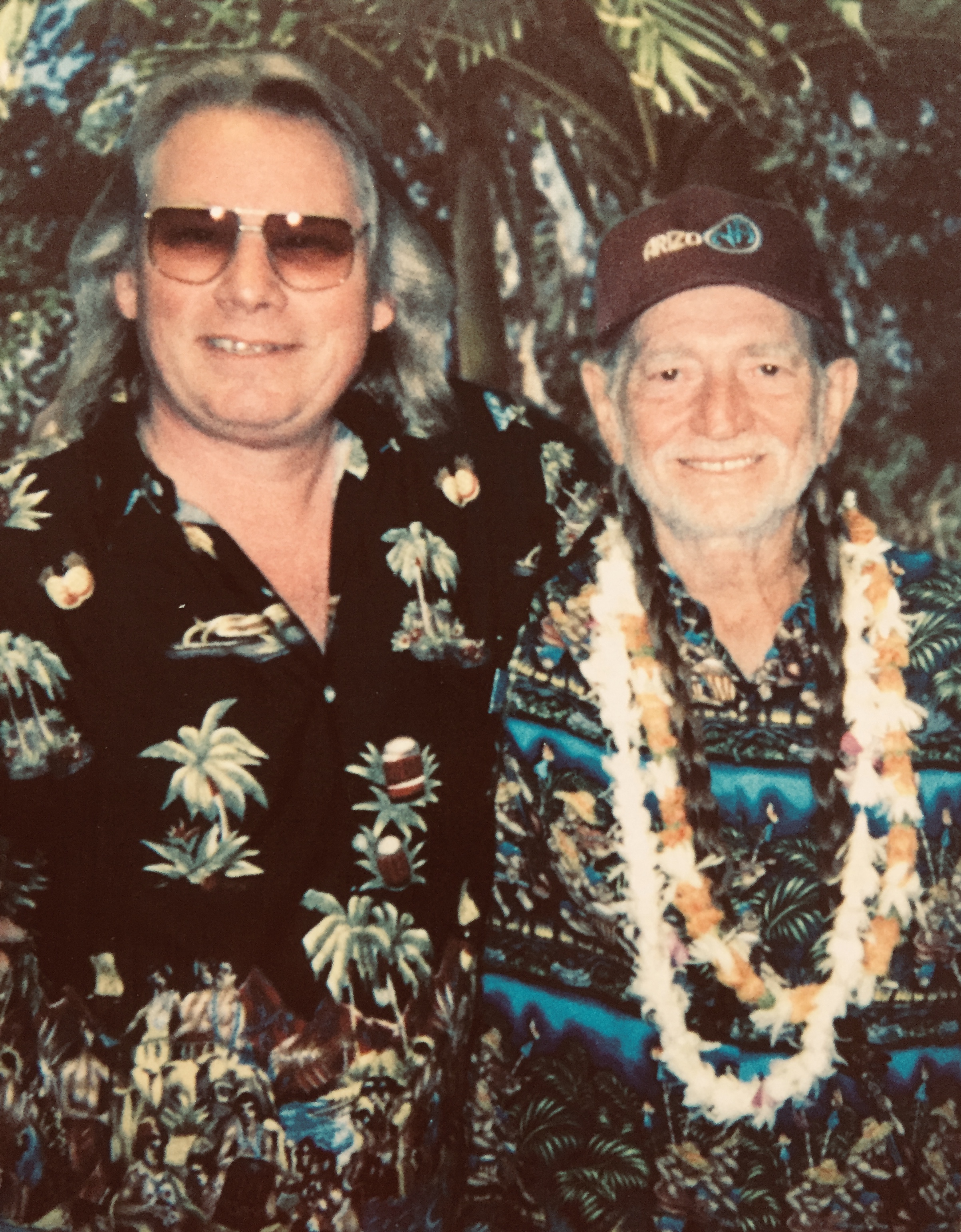 It was in the early 2000s that you decided to make an ongoing TV show called Tiki Lounge.
After playing the concert with Willie Nelson and recording with Donny Smith, I flew over to the Island of Kauai to help produce some songs for an old friend named Victor Bailey. I met his piano player Yoriko Hongo, and we got together as a duo to play some engagements at a local resort on the island for four months. Yoriko returned to California with me where we started filming the Tiki Lounge TV show in 2001 on the set I had built on my back lot that looked like Hawaii. The show became popular in California on three stations and in Ann Arbor Michigan and Hawaii. It's now in its eighteenth year on air with many famous bands and artists including Willi Nelson. Select Tiki Lounge shows and videos are on YouTube.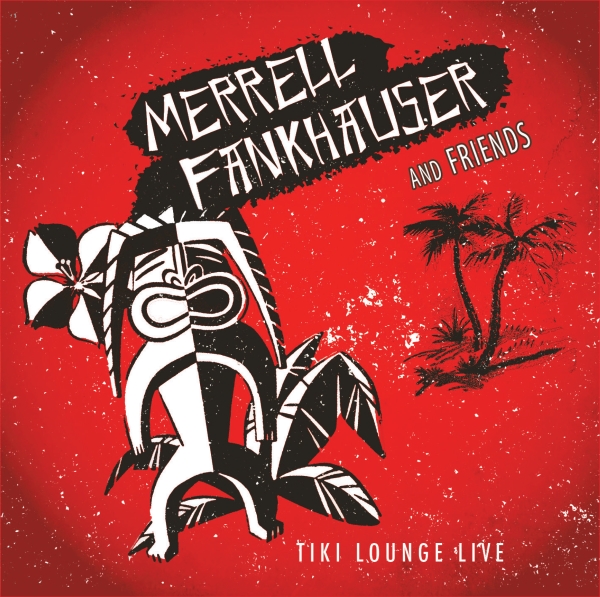 Some of the albums you recorded in the new millennium – Tropical Heat or The Whole Day Ahead Of Us − have a laid-back exotic feel. What made you gravitate toward exotic, tropical musical influences? Are you a fan of 50s exotica composers, for example Martin Denny and Les Baxter?
I lived on Maui from 1973 to 1987 and always loved the laid back relaxed and beautiful melodies of Hawaiian and tropical music. I got to meet and hear Martin Denny with his group on Maui and was always a fan of his music. After playing for four months at the exotic resort on Kauai, it seemed natural to record some music with that vibe. Tropical Heat came out on the Japanese Captain Trip label and the CD sold well at our weekly California central coast outdoor gig at Fins in Grover Beach.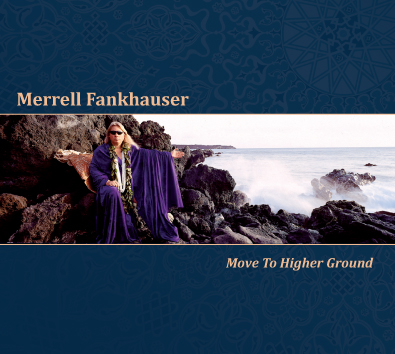 On 2009's Move To Higher Ground you reunited with the Fapardokly guys. The title track voices an honest concern over climate change and the environmental damage mankind is responsible for. 
The 2009 album Move To Higher Ground was inspired by the world situation at that time: wars, weather change, floods and fire. Not all of the changes are caused by gas emission and pollutants. The earth is still going through an evolutionary change that is evident today. The poles have changed several degrees and continue to change yearly, and is changing the weather belts. This is a scientific fact. Due to the magnetic change your GPS devices are no longer completely accurate.
In 2013, you produced a documentary about the cast of a movie called Rainbow Bridge. That film came out in 1971 and it includes one of the last live performances of Jimi Hendrix.
When I moved to Maui in 1973, I met many cast members of the 1971 Jimi Hendrix movie Rainbow Bridge who were living on the island. Some were living on Maui before the movie was filmed and were interviewed and hired as extras to be in the movie. A friend from Maui who was a surfer and journalist on the island named Steve Omar thought it would be a good idea to interview the remaining cast members from the movie that were still on the island. We interviewed them and other musicians like Les Potts who had the band The Space Patrol and had a major role in the movie. They all told stories about seeing UFOs while filming and what it was like hanging out with Jimi Hendrix. Our documentary Rainbow Bridge Revisited came out on the UK Gonzo Multimedia label in 2013 on DVD with a CD soundtrack. It featured music by Merrell Fankhauser, The Space Patrol and Omar And The Wave Spies.
In 2013 and 2014, you released two very good UFO-themed (mostly instrumental) psychedelic albums, Area 51 Suite and Signals From Malibu. The latter contains some strange noises of supposedly unknown origin.
The UK label I was on liked UFO-themed music. Radio host and music promoter Mack Maloney suggested I do an album of UFO-themed music. I had visited the outskirts of the airbase Area 51 in the Nevada Desert, and we came up with the title Area 51 Suite. I already had some unfinished instrumentals I was working on and gave them a space sound, and the CD album came out on Gonzo Multimedia. When I was sent the strange radio signals recorded by an ex-military radio expert from off the coast of Malibu, I became interested. The odd signals were reported to be coming from underwater several miles out in the ocean where there was an odd underwater anomaly that looked like a large dome-shaped building with 600 feet tall pillars and a huge opening in the front. People were reporting seeing lights going in and out of the ocean in the area going back to the 1940s.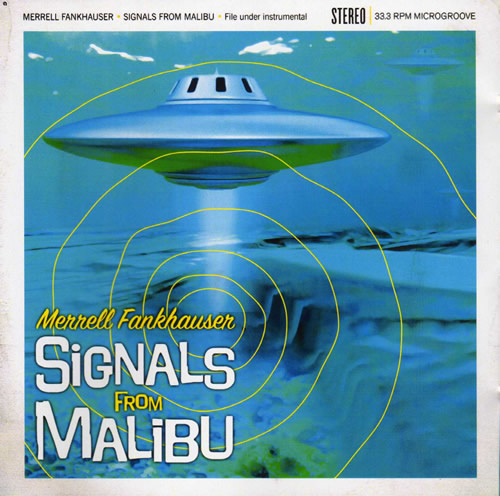 I played the signals in my recording studio, and immediately was inspired to play a low mysterious sort of 60s James Bond style electric guitar lead, leaving the signals in the background. I finished the recording by adding my band to it. I noticed there were four minutes of signals I hadn't used, and they seemed to fit a classical style piano part I had from another song. I added guitar, bass, synthesizer and violin and Messages From The Dome was completed. The signals again were left in and louder on the end and when played on radio stations with digital broadcast boards, they were knocked off the air. It was almost like going back to the early 60s and doing instrumental surf music, and the songs just flowed out and the album was finished in a month's time. I sent the songs to the UK label, and the album Signals From Malibu came out in 2014 to great reviews and radio play. I was booked on over 40 paranormal UFO-style radio shows, including the biggest night time talk show in America, Coast To Coast AM, I received nearly 800 emails from listeners and other radio hosts. People from Malibu started sending me photos they had made with cameras and cell phones of unexplained pulsating lights in the area of the anomaly. There are videos for Signals From Malibu and Messages From The Dome on YouTube. The Chumash Indians, who were the indigenous tribe living on the California Coast for at least 1000 years, knew of this building underwater and said they used to fish off of it when the ocean level was lower. The Chumash say it was made by the people who were there before them. There are still no answers to what the lights and signals are.
What is the latest release you are involved with?
The latest release I'm on is a 2018 two-CD set titled Eklectia. A newer version of my song Calling From A Star leads off disc 1. The album features seventeen bands from the US, Canada and the UK that feel their music is influenced by ETs and UFOs. There are also interesting short sound bites by artists about UFO sightings and a great interview with UFO researcher Grant Cameron. The release is the brainchild of producer and UK radio host Joanna Summerscales. The album is being very well received and getting radio play and reviews in the US, Canada and the UK and is available from me and online sources.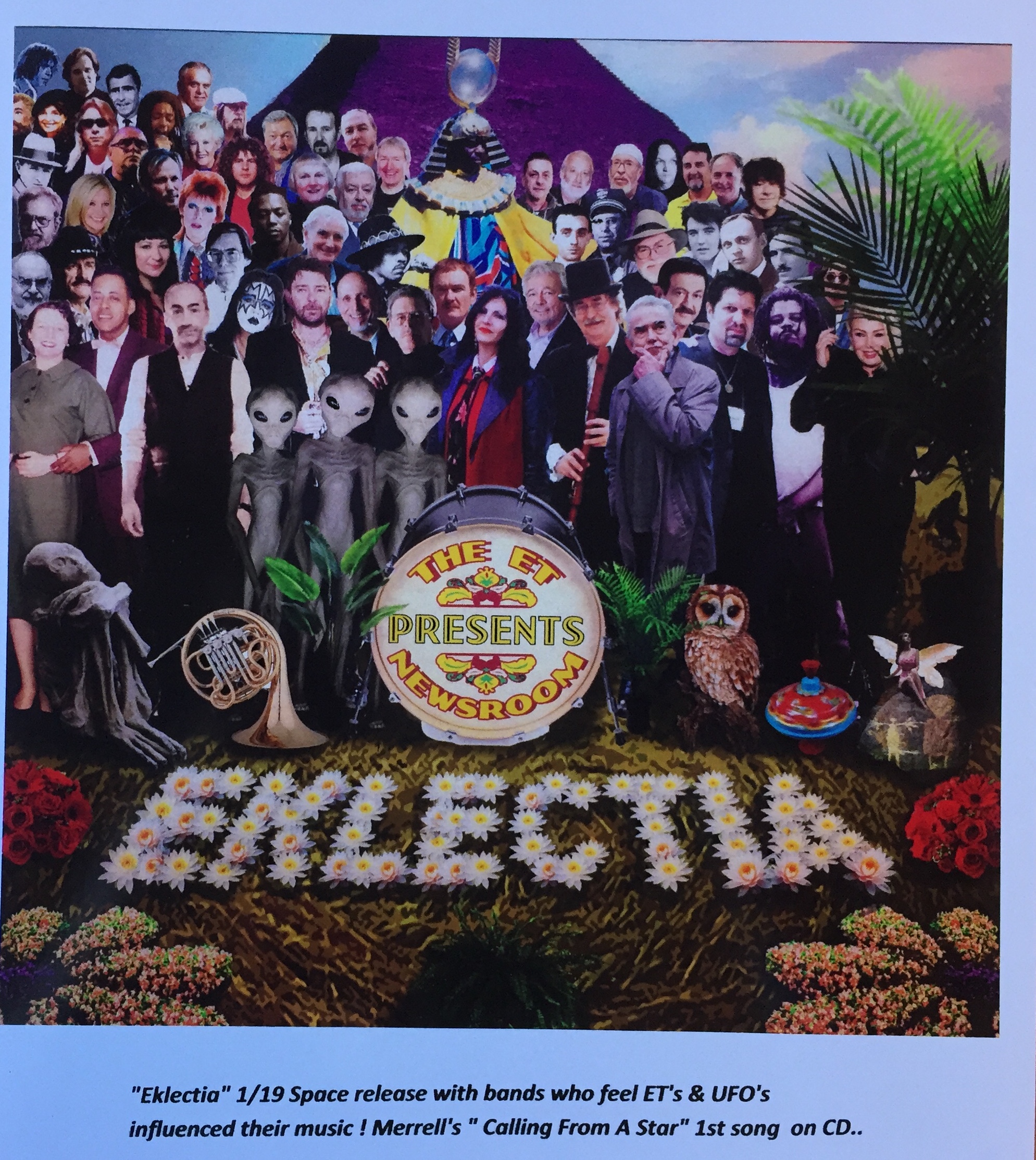 What are your musical plans for the future? Can we expect further interesting instrumental recordings, or are you eager to do a little singing again? Will your next effort be surf rock, psychedelia or exotica? Perhaps a mixture of these styles?
I never know what style or genre my next project will be, the inspiration comes and takes me on the journey. I have been working on a group of songs that were inspired by my meditations with a Tibetan Rinpoche on Maui in the mid-70s.
Your guitar sound is instantly recognizable. Which are your favorite guitars?
I started off as a teenager with a Martin acoustic, and I still use one for rhythm tracks in various recordings, and sometimes a Martin 12-string and classical nylon 6-string. My favorite electric guitars have been many, starting off with a Cherry Red Gibson ES 335 electric six string, a Fender Jaguar that I played on all the early Impacts and Exiles recordings from 1961 to 1967. In 1968, with HMS Bounty, I had a Rickenbacker 12-string and my Fender Telecaster. From 1969 to1974, live and on MU recordings, I used my trusty Fender Telecaster that I still have. Willie Nelson used it for a few songs in our Maui concert in 2000, there's a photo at my website of him holding my Telecaster. I still have all the above guitars, except for the Gibson ES 335 and the Rickenbacker electric 12-string that I wish I had never sold. Depending on the style and tempo of each song, a different guitar is needed. I love all my guitars!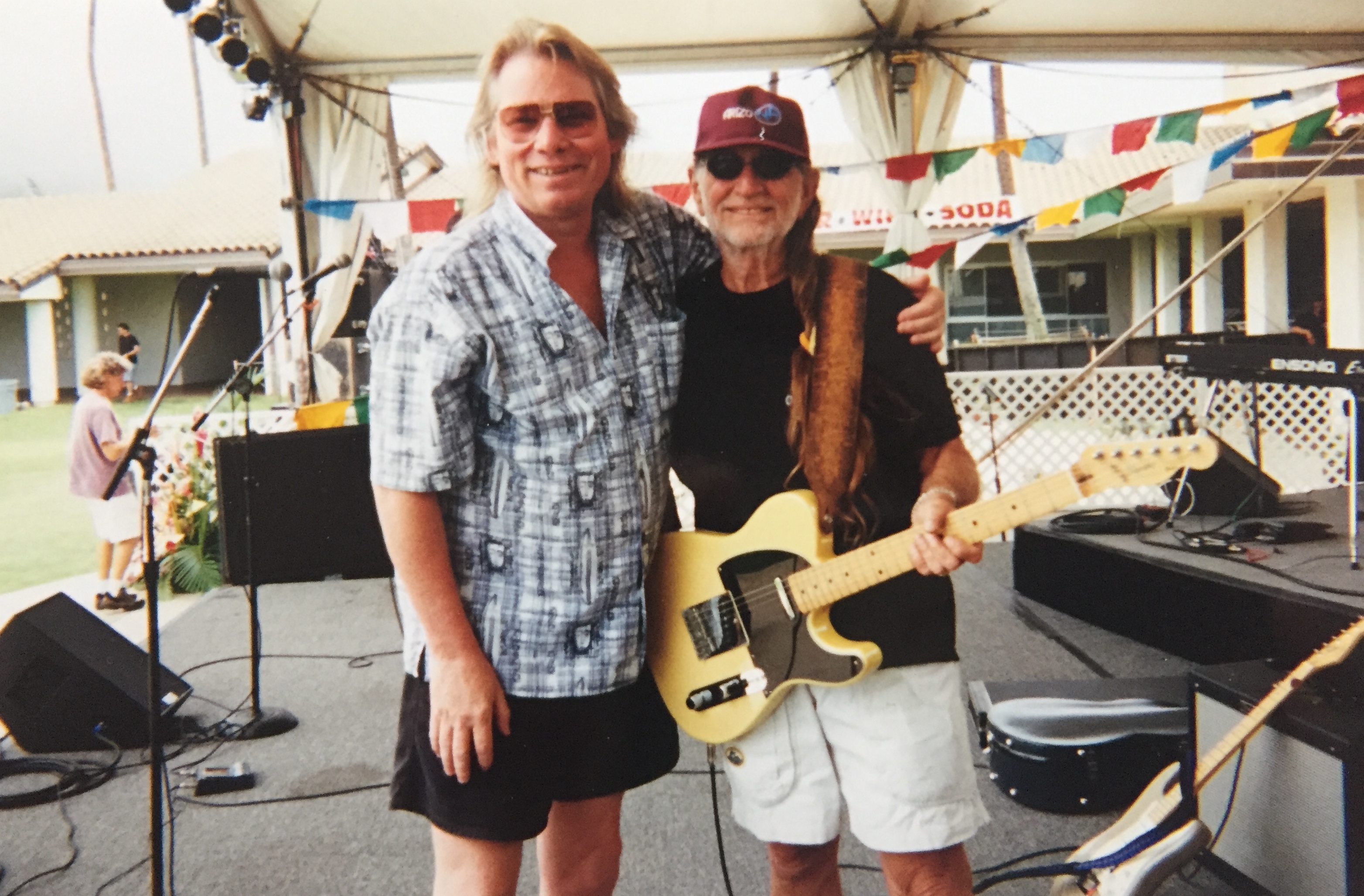 Merrell's CDs, DVDs and autobiography can be ordered at:
http://www.merrellfankhauser.com/
https://www.facebook.com/merrell.fankhauser